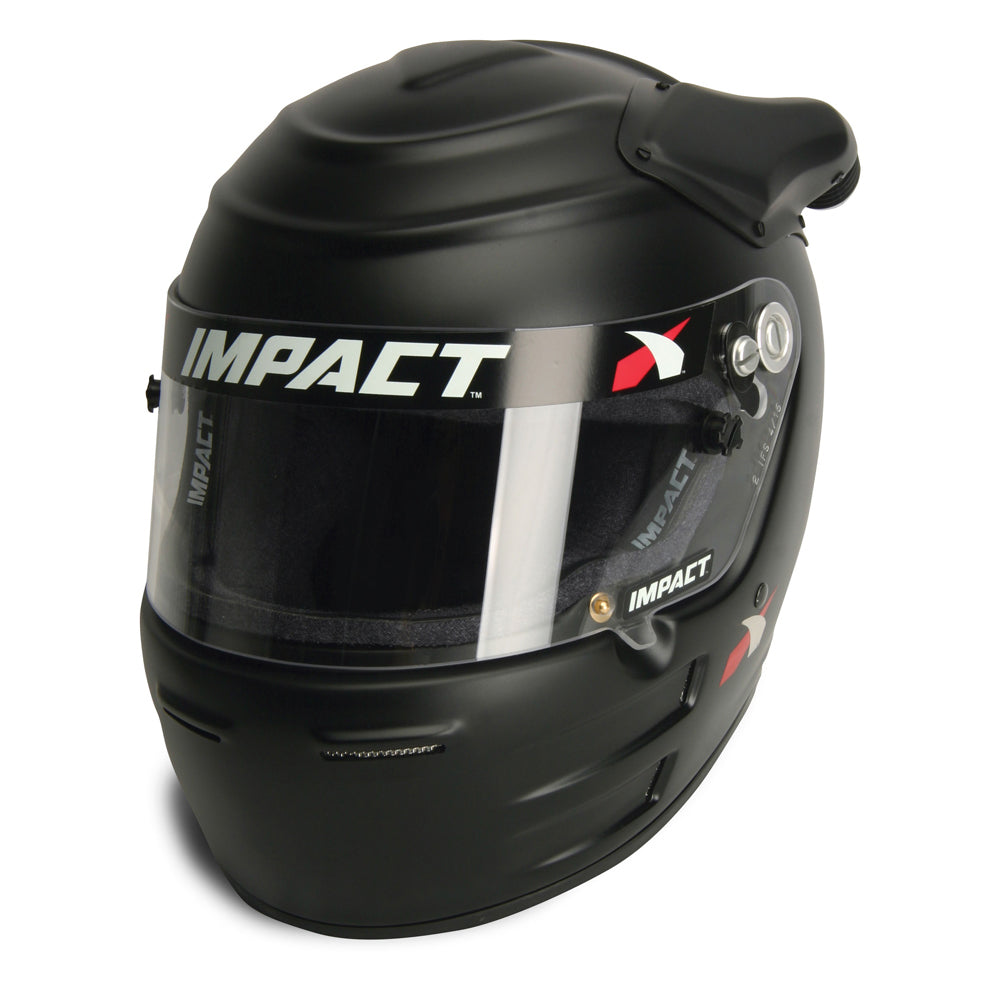 You asked for it and we listened; the best of both worlds has come together in Impact's latest helmet offering! If your racing involves close quarters to other vehicles pelting you with rocks and debris, the Vapor SC20 is the perfect helmet for you. The narrowed, wrap around eye port of the Vapor line provides better protection from debris, while an expanded, vented chin bar leaves more room for a microphone and reduces fogging. Impact's unique placement of the fresh air channels also eliminates the potential of the fresh air system from "opening" the mic and interfering with the communication system. The tapered lower design of the SC20 offers increased clearance between the helmet and the frontal head restraint device, thus minimizing interference between these two safety systems.

The Impact Vapor SC20 also shares much of the technology from our bestselling Air Draft OS20 helmet. These include features such as an off-centered and left-positioned air inlet providing added overheard clearance in the cockpit while the air port is angled 20 degrees to provide ease of movement with the fresh air hose. Cooling comfort and fresh air is pumped through three individual channels routed to direct air onto the visor reducing fog and contaminates from interfering with the visual field while one air port is directed onto the head and channeled towards the neck providing cooling comfort all race long. Superior ambient noise attenuation is achieved through the use of Impact's proprietary insulation foam creating a quieter race environment and reducing the potential for noise fatigue. Additional off-road and dirt track specific options include a built-in chin deflector and Nomex® covered eye port gasket, practically eliminating dust and contaminates from entering the interior of the helmet while also offering added thermal protection.

Manufactured using Impact's exclusive "Intelligent Gray Matter" inner liner (a variable-density, single-piece helmet liner) and upholstered with fire-retardant soft-knit Nomex® for superior comfort and thermal protection, the Vapor SC20 offers a truly unique helmet that includes removable cheek pads to provide a custom fit (optionally available cheek pads are available in a variety of thicknesses and configurations), a Kevlar® chin strap with dual D-ring closure, and a 1/8" polycarbonate shield with exceptional visual acuity finish off the newest addition to Impact's line of Made in the USA helmets.

*Add Options like FHR Posts, an additional shield, or tear-offs below. These must be ordered as a separate item, but can be added to your new helmet by the factory if specified.

• 


• SNELL SA2020 CERTIFIED
• The low-profile off-set 20-degree fresh air port offers maximum chassis clearance.
• Three air ports directed onto the visor, minimizing fog.
• Tapered lower design allowing for additional clearance between the helmet and the frontal head restraint device.