PCI - COMLINK X ELITE RACE INTERCOM
PCI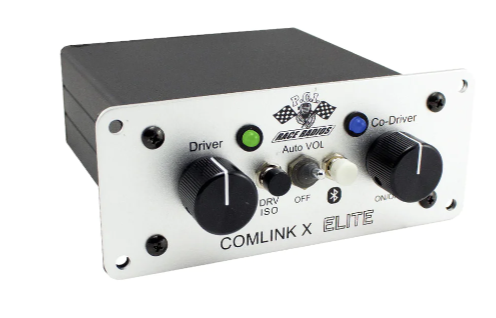 The Baja Proven Race Intercom

The Comlink X Features:
Independent Driver and Co-Driver volume controls
Auto Volume - Speed sensitive volume control with 3 different sensitivity settings that will compensate for background noise increasing or decreasing
Driver Isolation - Driver can shut off all outside radio chatter and still talk to Co-Driver
Pre-wired for sat phone, in-car camera, and external audio source
Includes two helmet/headset cables, a 12ft and 16ft
One Panel Mount and one Velcro Mount Push to Talk Button
Digitally controlled squelch and noise cancellation.
Upgrade your intercom to PCI Exclusive Bluetooth and/or DSP Technology.
DSP

 

- "Digital Signal Processing" electronically removes all noise from the intercom system except your voice. This is a MUST have for Trophy Trucks, Class 1's, vehicles without a windshield, V8 cars, or loud exhaust. Simple, one touch operation on the face of the intercom allows you to turn on DSP when you need it and turn it off when you don't.
Bluetooth

 

- Pair your Cell phone or Bluetooth capable music device player for wireless music and phone calls.  Listen to your music without connecting any wires or have a cell phone conversation without ever connecting your phone to your intercom system. With cell phone service in most racing areas nowadays, the Bluetooth cell option can even allow you to call to pits when you are out of radio range! Simple, one touch operation on the face of the intercom allows you to play or pause while music is playing, or answer incoming phone calls.