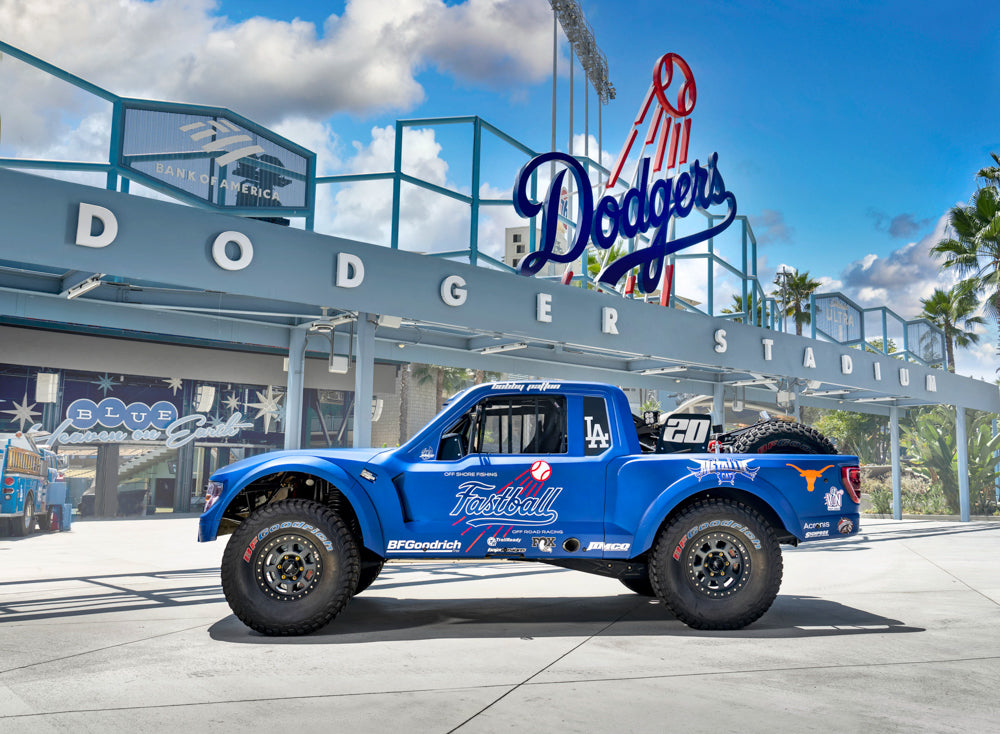 The New Fastball Jimco "Dragon"All-Wheel Drive Trophy Truck
Jimco Racing is proud to announce the launch of the new "Dragon" #AWD Trophy Truck platform. The "Dragon" is an entirely new design by Jimco from the ground up. Chassis #001 was custom-built for LA Dodgers owner and avid off-road racer Bobby Patton of Fastball Racing. The "Dragon" moves to capitalize on the benefits of the extreme acceleration and grip that All-Wheel Drive platforms are known for.
Part Trophy Truck, part rally car, the "Dragon" features a specifically engineered CAD verified front engine chassis design with a wheelbase of 125" and a track width of 93" to maximize horsepower to ground and give the driver unrivaled acceleration.


The "Dragon" drivetrain features the perfectly matched duo of the Xtrac 5-speed wide cluster sequential transmission with an integral transfer case, matched to an Xtrac Spool Type CTR Torque Split front diff, powered by a massive Dougans Custom 555 ci Big Block 8 Stack V8 Engine Package pushing out 1050 hp with 850 ft-lbs of torque. All of this is achieved while still maintaining 24 inches of travel in the front and 32 inches of travel in the rear. The distillation of over 40 years of off-road warfare, The "Dragon" defines the new pinnacle of off-road racing performance.


We reveal this amazing build at the legendary Dodgers Stadium in Los Angeles, CA named "Blue Heaven on Earth" by baseball legend Tommy Lasorda as a nod to the owner and connection to the 7x World Series champions The LA Dodgers.


Take a closer look at this incredible evolution in off-road racing vehicle design.

The New Fastball Jimco "Dragon" All-Wheel Drive Trophy Truck SPECS List:

Owner: Bobby Patton
Builder: Jimco Racing Inc
Lead Designer: Barry Karakas
Date Completed: 8/1/2022
Chassis #: J0030
Wheelbase: 125″
Track Width: 94"
Weight: 7000 lb
PWR: 6 x 1 - 0.157 hp/lb
Engine: Dougans Custom 555ci Big Block 8 Stack V8 Engine Package
Horsepower: 1100 hp
Torque: 875 ft lbs
ECU: MoTeC M190 ECU engine management system
Wiring & Prog:  James Lin
Transmission: XTrac 5 Speed Sequential w/converter
Shifting Paddle:  James Lin, OMP Wheel
Front Diff:  Xtrac
Rear Diff:  Gearworks
Rear Housing: ID Designs
Portal Hubs: ID Designs
Front Suspension: (A-Arm) FOX 3.0 Coil / FOX 4.0 ByPass /24″ Travel
Rear Suspension: (4-LINK) FOX 3.0 Coil / FOX 4.4ByPass / 32″ Travel
Steering: PowerSteering Solutions
Tires: 40″ Tall BFGoodrich KR3 Tires
Wheels: 18″ Trail Ready Beadlock Race Wheels
Brakes: 6 Piston Brembo Race Braking System
Cooling: C+R Racing / PWR
Exhaust: Header King/Borla
Plumbing: Custom Jimco
Driveline: JE Reel
Fuel Cell: 105 gal Carbon Fiber Pyrotect
Body: '22 Ford Raptor Custom Fiberwerx Fiberglass
Seats: Impact Carbon Fiber HS1
Nets & Belts: MasterCraft Safety Nets + Impact Camlock Restraints
Paint/Graphics: Sign Pros and Long Live Design Labs
Jack System: AGM/Howe Performance Jack System
Paneling: Custom Jimco Racing
Lights: Baja Designs
Navigation: Lowrance 9"&7"GPS
Communication: Palomar Communication
Extras: Kustom Komponents - driver & navigator helmet AC, Fluid Logic hydration system
Notes: All dimensions should be imperial and metric. Example: 10 inches / 254 mm.
Fastball / Jimco Marketing Partners:
BFGoodrich
FOX
LA Dodgers
Baja Designs
Trail Ready
Dougans
Xtrac