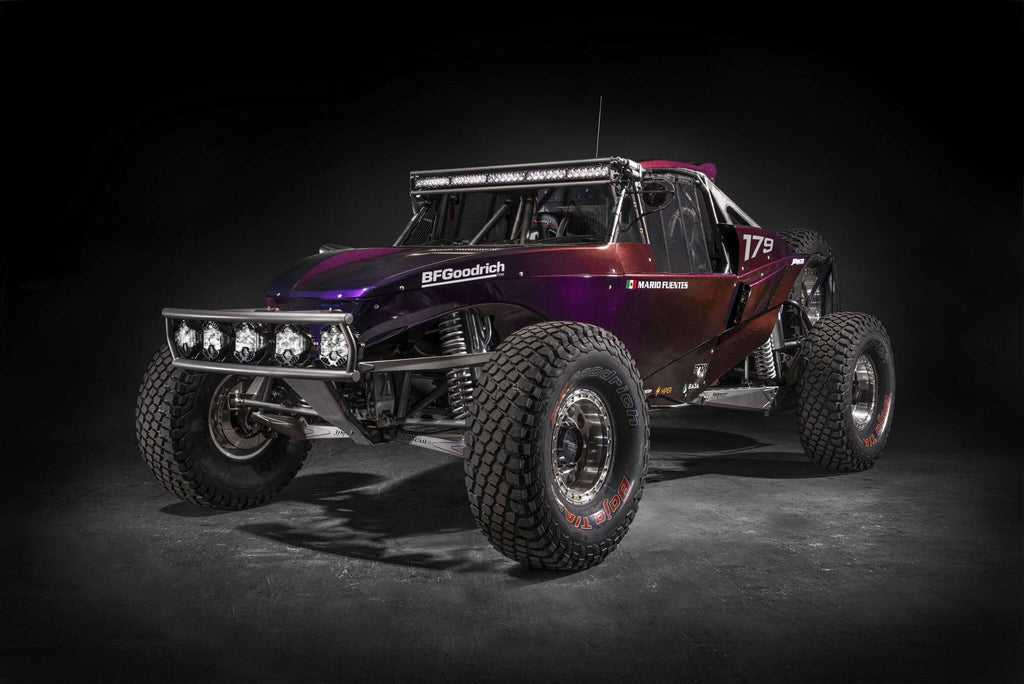 Open wheel cars still dominate racing as they did for the first 20 years in off-road racing until 1989 when young off-road maverick Robby Gordon won in a truck, ushering in the era of Trophy Trucks. In fact the large majority of off-road race vehicles were open wheel style buggies. Open wheel cars are typically lower weight and have better aerodynamics than trophy trucks and other vehicles with full bodies. The design also allows for better cooling of the engine as well as improved cooling of the brakes although the exposure of the wheels causes a very high aerodynamic drag at high speeds. Jimco has taken the best parts of their world beating "Champion" Class 1 car platform and evolved it integrating technology developed from their "Maximus" trophy truck platform to bring you the "Hammerhead" Class 1 platform integrating the best of horsepower, agility, and suspension.
Jimco Racing is proud to announce the launch of the 6th Hammerhead Chassis, and the 5th to hit the ground, built for a local off-road racer. Following Jimco's domination in Class 1, like its predecessors the "Champion" and the "2000 Series", "The "Hammerhead" is the next evolution in Class 1 race vehicles. The "Hammerhead" takes the best features of a modern day trophy truck and packages them into a Class 1 car with increased front wheel travel, a steering box for increased turning radius, and 20" longer trailing arms for increased forward bite and improved suspension over a traditional "buggy" trailing arm. The "Hammerhead" Mid-Engine design changes the placement of the vehicle's weight improving handling and the cornering ability. This next generation of Class 1 car sits on 40" BFG KM2 Race Tires, and is finished with the same specialty features that go into every Jimco race vehicle, making it a contender for overall victories. Fuentes made the exterior of this "Hammerhead" stand out by wrapping it in a special 3M-Gloss Flip Deep Space, which includes various colors that change depending on the direction you view it. Inside the driver and co-driver seat snugly in Impact Carbon Fiber HS1 race seats wrapped in the Momo Camlock Restraint System. The dash features a horizontally aligned panel cluster including dual Motec electronic keypads, dual Lowrance GPS systems and the dual Motec electronic displays so you will know where you are and be aware of all of your vehicle information.
The proud new owner explained: "I chose Jimco because ever since I was a young boy, I have always known that Jimco was top of the line.  When they developed the "Hammerhead" I absolutely fell in love with it and decided this is my dream vehicle. Initially I was looking to build a Class 10, then this Class 1 was produced, and I was sold." In speaking with owner, you can tell how truly excited he is to own this vehicle.  "The entire process during the build, and working with Jimco was excellent, and the communication was perfect.  Now I am able to fulfill a bucket list item of racing the SCORE Baja Series in a Jimco built car!" he proudly told us. He has given his new dream car the honorary name of "La Buchoncita!" Which loosely translates to slang for "Sexy girl".
This Jimco "Hammerhead" is powered by a custom Dougans small block spread bore 477cubic inch 850hp engine with a naturally aspirated throttle body. The bite is what you would expect from a "Hammerhead" this engine sounds spectacular and puts down 620hp with help from the Fortin 5 speed sequential transmission with a torque converter engaging the massive power to the ground.