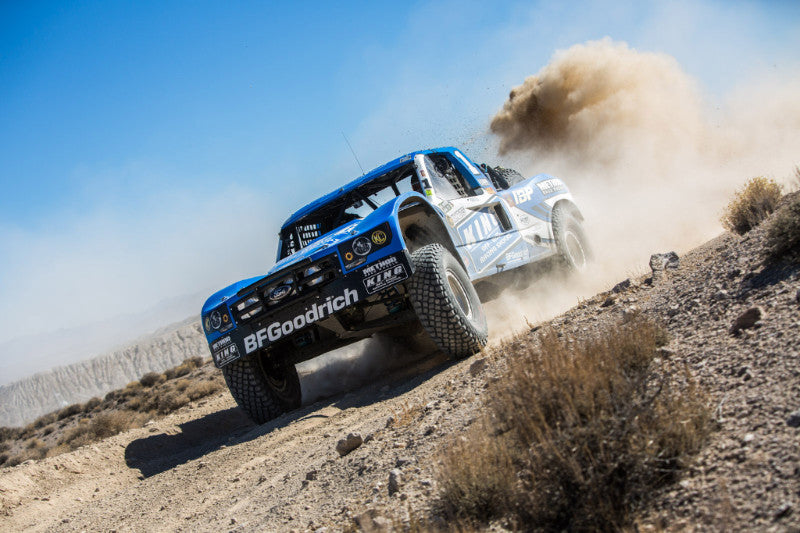 Jason Voss Continues To Show Why He Runs The Number 1 Plate
With adrenaline still running from his 4th Vegas to Reno overall win, Jason Voss came to Tonopah as the confident points leader and looked to further extend his lead over other competitive Trick Trucks in the BITD series.
Voss was the highest qualifying Trick Truck in P2, and did not seem like his overall chances were at all threatened by a 1500-car in the top qualifying spot. He commented that the qualifying course was tighter, and more favorable to the car classes, smaller than a trick truck. Further more, some of the Tonopah race course would be deja vu for Voss, as some of the roads were the same as the Vegas to Reno race.
It was not long before Voss was out front in physical first place and could open to full throttle into clean air. His Jimco truck was strong as always, and withstood the Nevada desert; there was no stopping him. First physical to finish turned into first overall on the clock and Voss went home the winner.
Another who left Tonopah a winner is Sam Berri, who qualified 12th but felt obviously comfortable in his Jimco buggy as he catapulted into 3rd place on the overall podium, and first in class. The next finishing 1500-car was back in the 8th overall position.
Both class-10 Jimco buggies that departed the start line, survived the race enough to finish on all 4-wheels. Blade Hildebrand finished 5th in class, while Johnny Buss finished 8th.