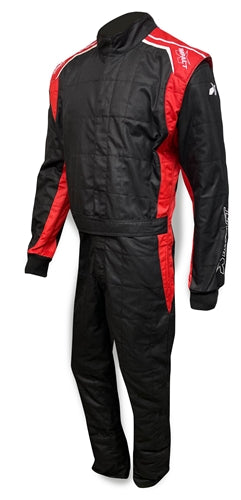 Racer 2.0, 1-Piece Complete Firesuit
The Racer has been a popular mainstay in the Impact suit lineup for years. For 2023, the Racer 2.0 features a new epaulet to create a fresh look while maintaining the comfort and value that has made the Racer so popular. Featuring a two-tone, European design that complements a variety of racecar liveries, the Racer 2.0 is the ideal option for anyone wanting a budget-friendly, two-layer lightweight, Nomex® SFI 3.2A/5 rated driving suit. Constructed from semi-gloss Nomex® fabric, the Impact Racer 2.0 offers all of the features found n the original Racer suit, such as: anatomical stretch paneling along the lower back, 360° full-floating arm gussets, boot-cut cuffs and extra deep inset pockets. The box quilting also offers valuable additional seconds of thermal protection from heat transfer.

• Manufacturer certified to comply with the SFI Foundation's 3.2A/5 Specification
• Fire-restardant outer layer with cool comfortable ImpactMAX inner liner.
• 360 degree full-floating arm gussets.
• Comfortable ribbed arm cuffs and a boot cut ankle cuffs for a tight seal and fit.
• Inset front pants pockets.