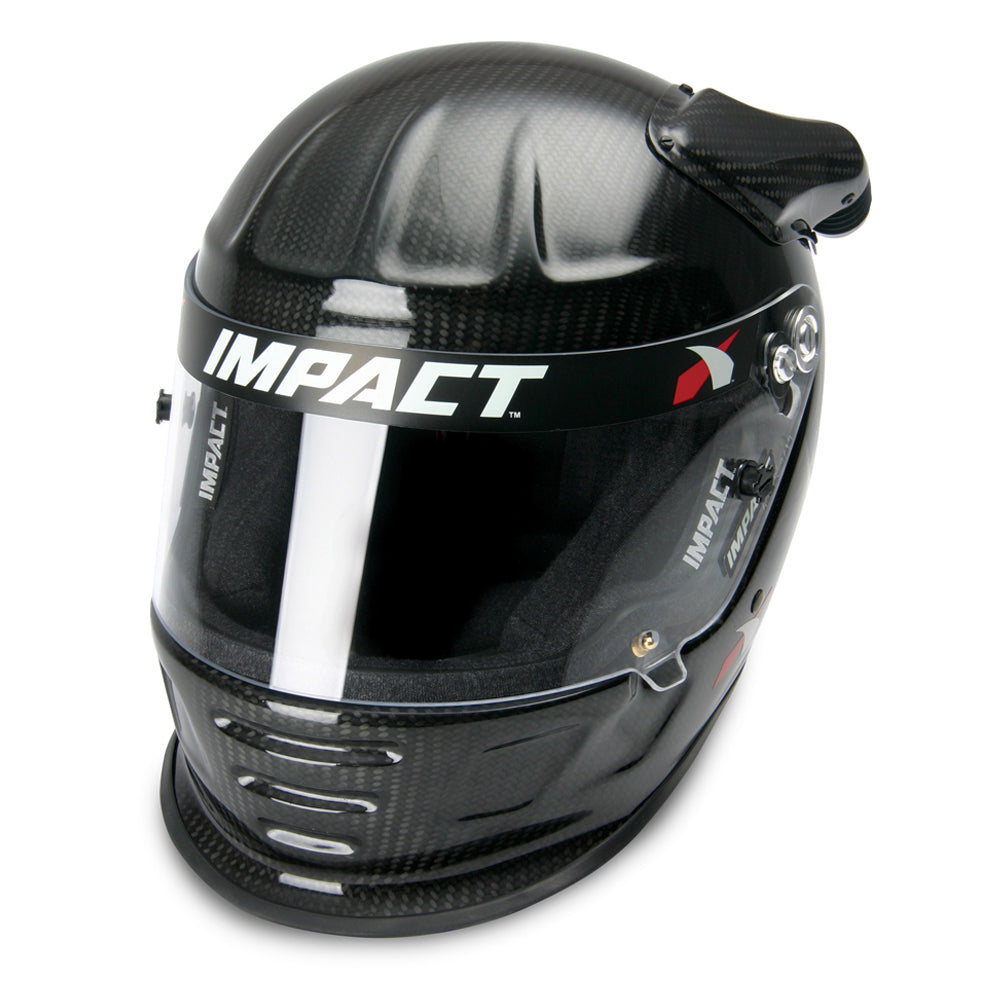 As dirt and off-road racers ourselves, we understand the importance of a helmet that fits and performs in the most extreme environments. Manufactured from our lightest weight carbon fiber material, the Impact Carbon Fiber Air Draft OS20™ offers improved driver comfort and reduced fatigue and neck strain thanks to its lightweight design. The off-centered and left positioned air inlet offers added overhead clearance in the cockpit while the air port is angled 20 degrees to provide ease of movement with the fresh air hose. Cooling comfort and fresh air is pumped through three individual air channels routed to direct air onto the visor further reducing fog and contaminates from interfering with the visual field. The unique placement of the air channels also eliminates the fresh air system from "opening" the microphone and interfering with the communication system. Featuring a wide eye port, the Air Draft OS20™ offers an exceptional range of peripheral vision while the wicker bill design provides aerodynamic down-force to reduce the potential of the helmet "lifting" at high speeds. Additional features such as a built-in chin deflector and the Nomex® covered eye port gasket practically eliminate dust and contaminates from entering the interior of the helmet while offering added thermal protection. The Air Draft OS20™ also includes removable cheek pads. Optionally available cheek pads are available in a variety of thicknesses and configurations to provide a custom fit. Manufactured from Impact's "Intelligent Gray Matter" inner liner and upholstered with soft-knit fire-retardant Nomex® fabrics, the Carbon Fiber Air Draft OS20™ is the helmet of choice for Baja racing adventures.
*Add custom options like a helmet skirt, FHR Posts, or a communication radio system to your helmet before it leaves our facility here on this page using the drop-down menus provided.

• SNELL SA2015 CERTIFIED
• Carbon Fiber Construction
• Off-set 20 Degree air intake for small cockpits
• Gray Matter fire-retardant covered liner made of Impact's "intelligent" single piece variable-density core.
• Interchangeable cheekpads for a perfect fit (comes with std cheekpads, other sizes are extra).
• Fire-retardant Kevlar® chinstrap with locking dual D-ring design.
• .125" Clear Shield comes standard with 3 position detent