Impact Racing - Phenom FS 2.0, 1-Piece Female Firesuit
Impact Racing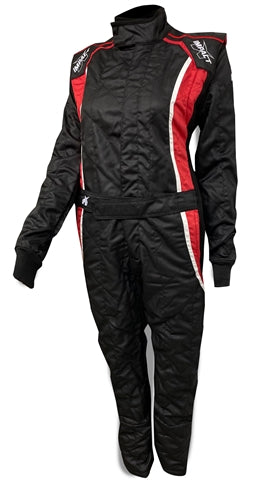 Phenom 1-Piece Complete Firesuit
The immensely popular Phenom suit is now available in women's sizing and has been slightly redesigned for 2022. Utilizing women's specific patterns, the suits feature enhanced comfort for female wearers. The Phenom FS 2.0, 2-layer suit blends European styling with Made in the USA craftsmanship to achieve a stylish, comfortable suit. Hand-crafted from lightweight sateen Nomex® the Phenom FS 2.0 is certified to the SFI 3.2-A/5 specification. The Impact Phenom FS 2.0 also features V-stitch quilting for exceptional thermal performance; a 180 degree belt, and a special inseam gusset for superior comfort. The Phenom FS 2.0suit also features inset pockets for a tailored look.
• Manufacturer certified to the SFI Foundation's 3.2A/5 Specification.
• Specifically designed for the female body.
• Fire-restardant outer layer with cool comfortable ImpactMAX inner liner.
• Functional Back & Auxillary Gusset.
• Anatomical Stretch Crotch.
• 360 degree full-floating arm gussets.
• Comfortable ribbed arm cuffs and a boot cut ankle cuffs for a tight seal and fit.
• Inset front pants pockets.