Zero 360 UTV 5lbs Automatic System with Braided Stainless Steel Hose
Jimco Racing Inc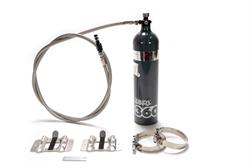 Novec 1230 gas system knocks down fires fast and directly dissipates heat.
Automatic fire detection and deployment through your choice of one or two nozzles.
Lifeline Fire and Safety Systems has applied over 25 years of motorsport safety knowledge and unparalleled experience to develop a lightweight and compact UTV 5lbs fire suppression system featuring your choice of one or two auto nozzles. The fast-acting, lightweight, aluminum nozzle(s) disperses the gaseous, clean agent 3M Novec 1230 to the source of the fire requiring no input from the occupant(s) providing a high level of fire suppression capability with no residue and no electrical system damage.