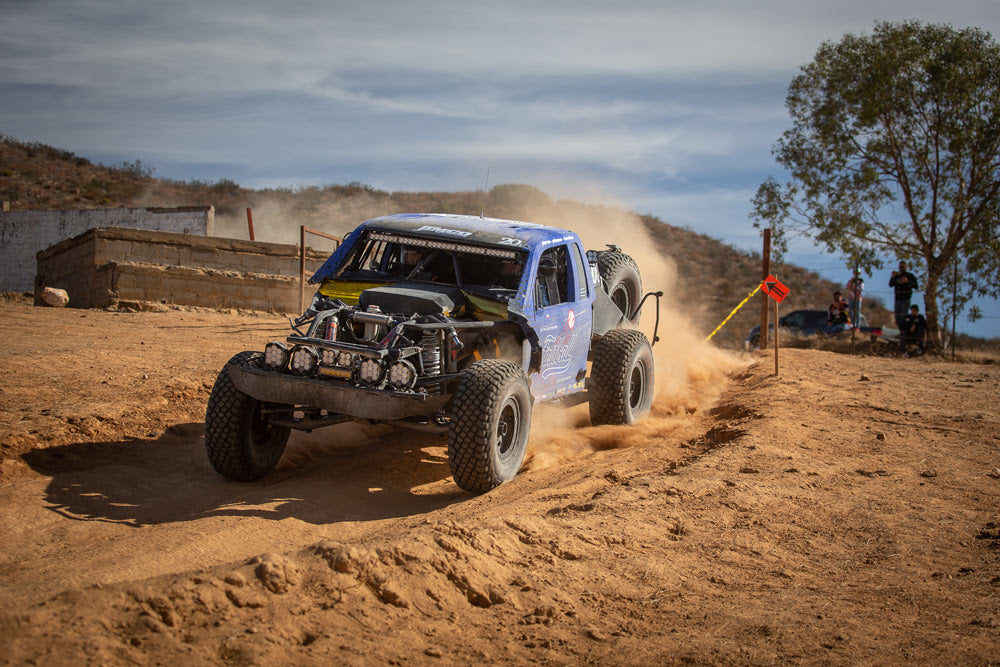 Jimco Racing dominates the Baja 1000 winning the Class 1, Class 10 and Trophy Truck Legends Classes


Jimco CEO Robbie Pierce piloted the #20L JIMCO Racing Fastball Maximus Trophy Truck to a first-place finish in the Trophy Truck Legends Class, sharing driving duties with 7x Motocross and off-road champion Ricky Johnson and 8x off-road champion Barry Karakas. His team also included co-pilots Ramon Bio and Robert Moruzzi. The team battled the longest loop in the history of the Baja 1000 in an ultra-rough and technical course finishing with a time of 27:29:57.953.



A longtime off-road racer and now owner and CEO of Jimco Racing, Robbie Pierce has earned his most significant win of his career. "This one feels really good - not just to win, but to win with my team in our JIMCO. It means a lot. It's been a rough year for all of us, but I think it speaks to the tenacity of off-road racing culture that we kept pushing forward. I couldn't be more proud of this team.  They are why we won this race, they never gave up. We struggled with a transmission issue right after the start that put us down a couple hours and lost a driveshaft in San Felipe but we just kept fighting back. This whole crew worked their butts off for 36 hours straight. I am going to try and enjoy this victory and take it all in!" stated Pierce.



#127 Cody Parkhouse dominated Class 1 in his Jimco Hammerhead Class 1 car. Cody shared driving duties with his father Brian Parkhouse and Roger Starky. Their co-pilots included John Kohut, Roger, Starkey Sr., Jeff Smith, Justin, Herrmann.  After some back and forth battles with Broc Dickerson and implementing precise pit strategy, the team bested the field by over two hours with a finishing time of 22:31:08.266.



"This new Jimco Hammerhead chassis is a beast!  It took everything Baja could throw at it. Our whole team did an amazing job. It feels great to follow up our win at the Baja 500 with a win at the 1000 to take the championship," stated Parkhouse.


In Class 10, the #1085 Green Army car of Jeremy Davis, Justin Davis and Tyler Petersen managed to battle the field of 13 cars for a first place finish with a time of 24:16:10.545. Jimco Racing would also like to congratulate the team of Mario Fuentes, Bob and Justin Lofton who piloted their Jimco Hammerhead Class 1 car to a 3rd place podium finish.
The Baja 1000 concludes the season of racing in the 2020 SCORE Desert Championship.