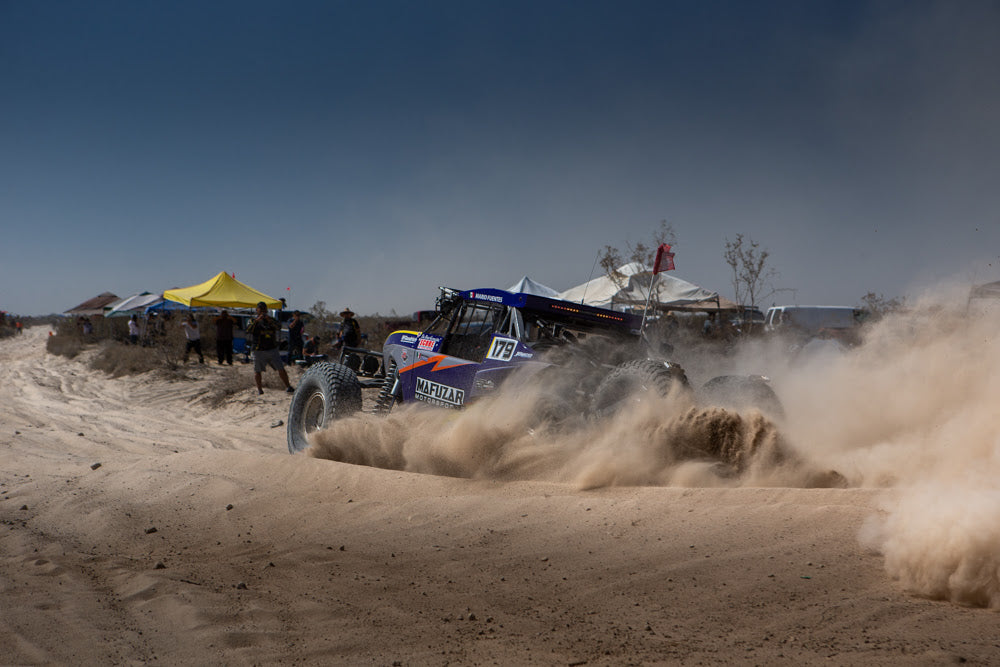 Mario Fuentes finishes strong in his second race in his new Jimco Hammerhead Class 1 Car
The Mafuzar Motorsports team of Mario Fuentes and co-pilot Cody White piloted the #179 Jimco Hammerhead Class 1 car to a 3rd place finish at the San Felipe 250. The podium finish earns the team their 2nd podium in a row, following a hard-fought 3rd place finish at the 2020 Baja 1000. Even with some downtime, the team completed the brutal San Felipe loop with a time of 6:49:28:3383.
This year's San Felipe 250 consisted of 280.2 miles of unforgiving whoops combined with technical rocky sections and wide-open sand washes creating a fast-paced, yet technical racecourse capable of defeating even the most experienced race teams. Mario Fuentes started and finished the entire race in the Mafuzar Motorsports #179 Jimco Hammerhead Class 1 car.
"It was my first time qualifying for a race. The car felt great, but the qualifying course was super sandy and loose. We qualified 5th so we started in that position. Our strategy was just to run a smooth race and let the race come to us. There were a crazy amount of spectators on course so we lost some of the lines we marked during pre-running. Everything was going pretty smooth until I made a mistake climbing a hill near race mile 180. We slid into a ravine on the side of a cliff and I didn't want to risk rolling off the cliff. We had to wait an hour and ten minutes for a tow out," stated Fuentes.
"Once we got going again, we picked up the pace and got to the finish in 3rd place in class 1. This lines us up for a 3rd place start at the Baja 500. I had a great time and continue to learn every race. Thanks to all of our chase crew, the Lofton's, Jimco Racing and the whole Mafuzar team from Juarez. Special thanks to Hiper Gas Energy Resources, Baja Gas and Oil, Lofton Racing, Dougans Racing Engines, Fortin Racing, and BFGoodrich Tires. 2021 is our first full season in SCORE Class 1 and we are off to a great start! I am looking forward to the Baja 500 in June!!"

Look for Mario Fuentes to continue his quest for the 2021 SCORE Desert Championship in the upcoming Baja 500 June 9th -13th.