For Immediate Release
PRESS RELEASE
November 23, 2011

All German Motorsports
Contact: Katie MacEllven
760-738-4626
katie@allgermanmotorsports.com
Hi-Res Images Available Upon Request
All German Motorsports 2011 SCORE Baja 1000 Race Report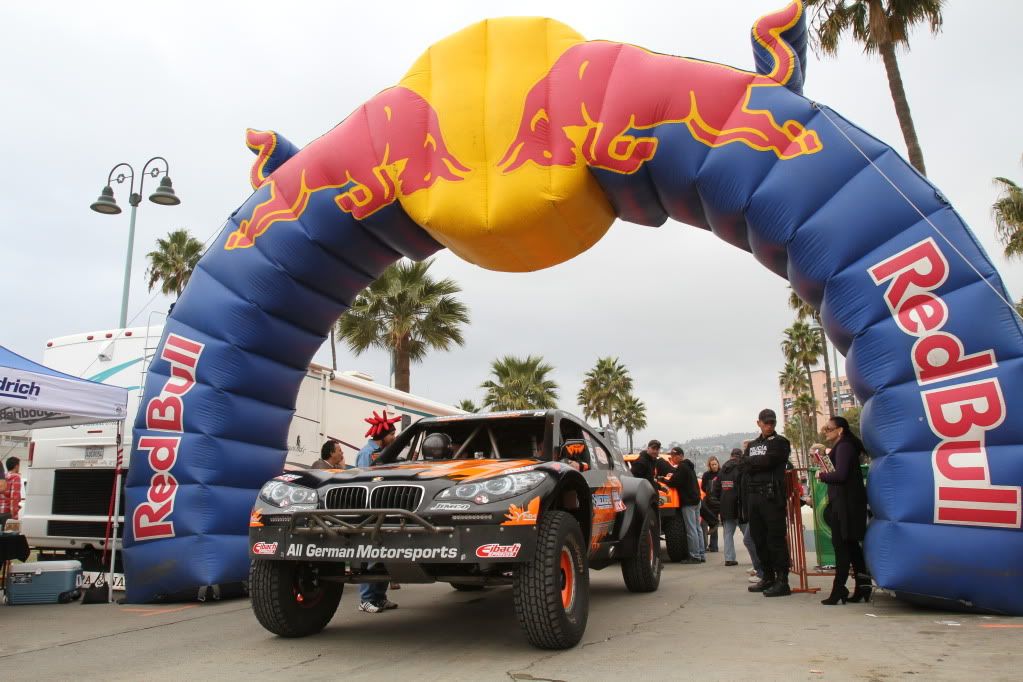 Armin Schwarz & Bryan Lyttle Off the Start Line in Ensenada (Photo Credit: Art Eugenio)
Escondido, CA 11/23/2011 – The 44th running of the Tecate SCORE Baja 1000 took place in Ensenada, Baja California, Mexico this past weekend. The rugged Baja 1000 ran along a 705 mile course both starting and finishing in Ensenada. This was the fifth and final race of the 2011 SCORE Desert Series with 284 total starters in this race alone. With little testing performed on the new Trophy Truck, we decided to use the Baja 1000 as a test run for the new Trophy Truck in preparation of the 2012 season.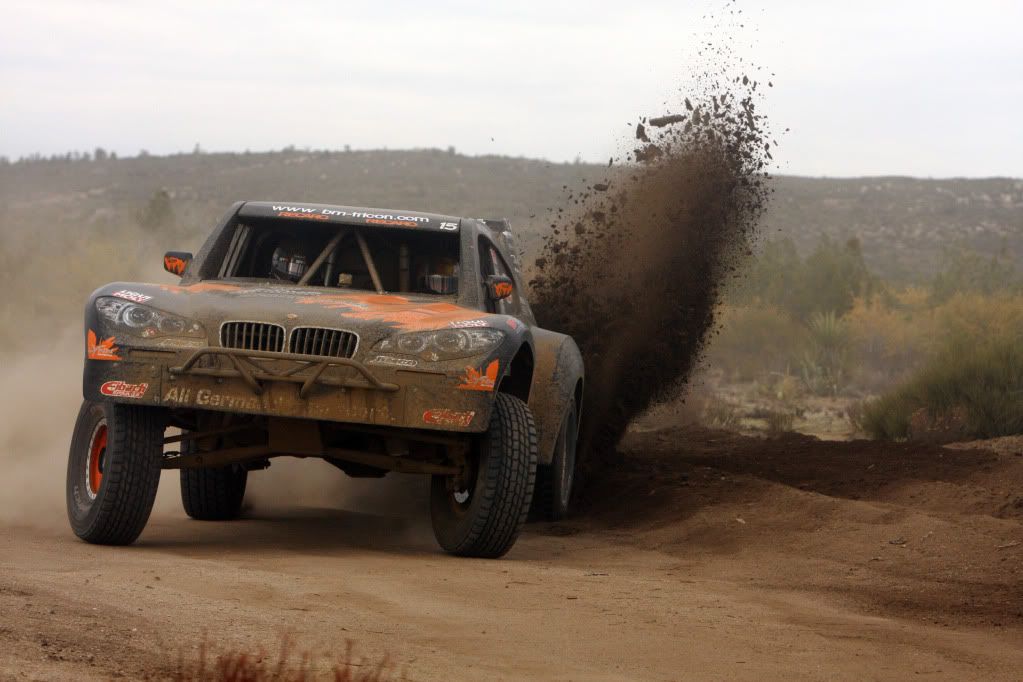 AGM/Jimco X6 Trophy Truck #15 (Photo Credit: Art Eugenio)
The All German Motorsports #15 AGM/Jimco X6 Trophy Truck was 19th off the start line with a total of 32 Trophy Trucks in class. Driver Armin Schwarz and Navigator Bryan Lyttle took on the first 401 miles of the race with Driver Martin Christensen and Navigator Tyler Irwin finishing the remaining miles of the course. The race started off a little different this year. A local construction big rig truck jack-knived, rolled and blocked the course about 2 miles in and caused the SCORE officials to stop the Trophy Trucks that had already started and restart the entire class at RM 5.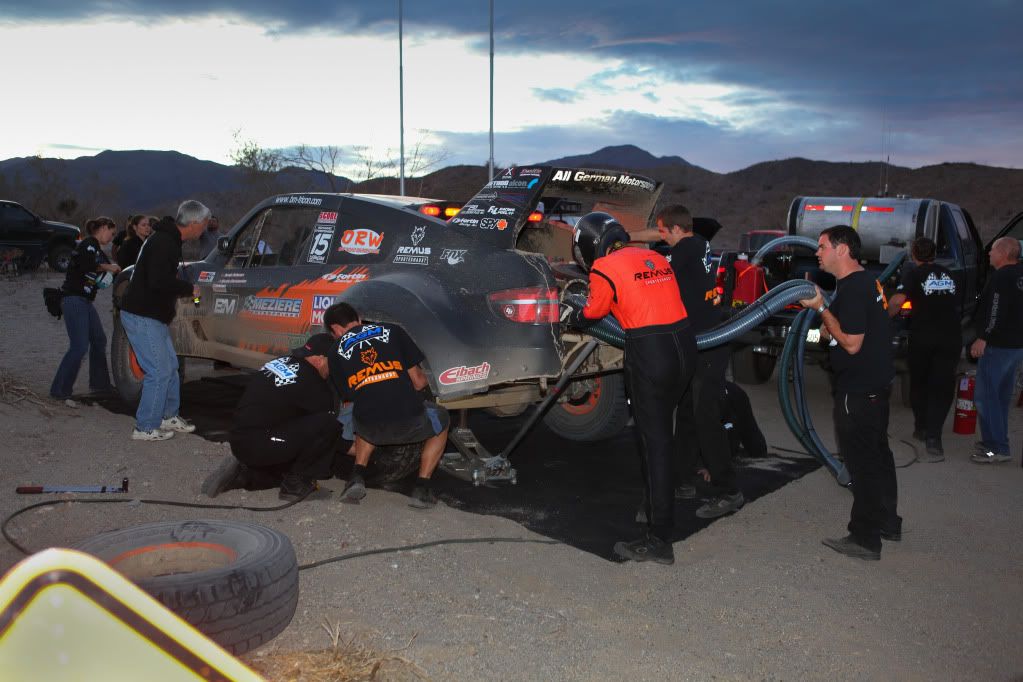 AGM Pit Stop
The remainder of the race seemed to run smooth with the exception of a few minor issues. Early into the race we lost air from two tires due to our rims being bent. A few hundred miles into the race, we heard noise on and off coming from the gearbox. For safety reasons and because we wanted to finish the race, we decided to change the transmission at RM 570 before the course went up the mountains and over to the Pacific Side. This was the first time our team as a whole had changed the transmission and the pitch black night only added to the excitement. The change put us out of the race for almost three hours but from then on the truck ran like clockwork. The AGM/Jimco X6 Trophy Truck finished 15th in class and 20th overall! We are now taking everything we learned and moving forward in preparation of the 2012 SCORE racing series.  
Martin Christensen and Tyler Irwin Crossing the Finish Line
All German Motorsports would like to thank our all volunteer team for their hard work and dedication that allowed us to make it to the finish. AGM would also like to send a big thank you to all our sponsors that help make this happen:
B&M Tricon – Fox Racing Shox – Meziere Enterprises – Jimco – Danzio – Eibach – Lubro/ Liqui Moly –  
Method Race Wheels – BFGoodrich Tires – Off Road Warehouse (ORW) – F & L Racing Fuel – Stammcut –
Baja Designs – Stand 21 – Alcon Braking – Remus Exhaust – X-Bionis – Lynx – K&N Air Filters – Spy Optic –  
Fortin Transmissions – Recaro – Collisions Plus – All German Auto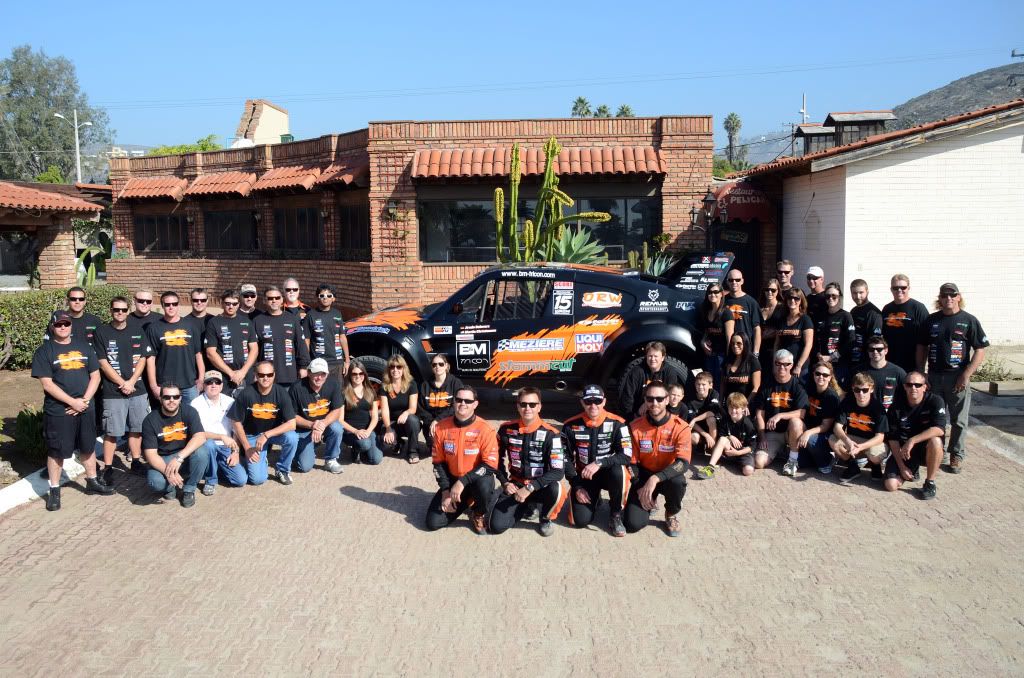 All German Motorsports 2011 SCORE Baja 1000 (Photo Credit: Art Eugenio)
About All German Motorsports
All German Motorsports strives to be the preeminent organization in every field we are involved in, through hard work, determination and a structured scientific approach.  Whether it is racing in the desert, repairing vehicles or adding to our ever growing line of high end products designed specifically for racers. We are committed to providing to our team members, partners, customers and fans with the very best we have to offer. www.AllGermanMotorsports.com 
About SCORE International
SCORE International is an off-road sanctioning body in the sport of desert racing and is famous for its flagship event, the Baja 1000.  SCORE races are held in the United States and Mexico. Founded by Mickey Thompson in 1973, SCORE continues today under the direction of Sal Fish. www.SCORE-International.com
# # #